Forbidden City 3
Our tour through the Forbidden City continues…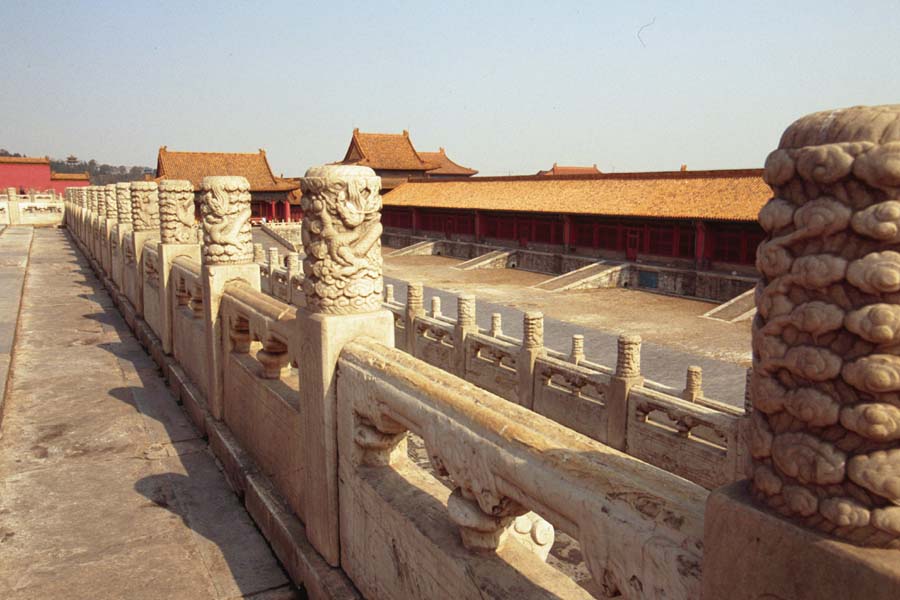 I was impressed with the unending attention to detail. Note how each of these posts is ornamented differently.
Can you imagine every one of these posts being ornate and different?
One of the ceremonial entrances, now closed off so that it won't be worn down by all the nonemperors visiting the place.
Zhong He Dian, or Hall of Middle Harmony. According to the notice below,
"Zhong He Dian was built in 1420 and rebuilt in 1627. It was originally named Hua Gai Dian (Hall of Canopy), and the present name was given in 1645.
Before presiding over grand ceremonies in Tai He Dian, the emperor first came here to receive respects from his officials. On the occasions of offering sacrifices to Xian Nong Tan (Altar of Agriculture), Di Tan (Altar of the Earth), She Ji Tan (Altar of Land and Grain) and Tai Miao (Imperial Ancestral Temple), the emperor also came here first to read and examine the sacrificial writings."
Everyone wants a good look inside the Hall of Middle Harmony.
I believe that the buildings in the distance were residences.
A typical scene inside the Forbidden City.
We were attracted to the little building in the distance, perhaps because it was situated out of the way. We walked down there, and were pleasantly surprised to find a mini artist's market, where we eventually bought a couple of things. You can see the artist and some of her paintings in Forbidden City 4.
Ahead to Forbidden City 4
Back to Forbidden City 2
Back to Beijing March 2003