Neighborhood 1
We got invited by Zhang Yang, one of Jinghua's friends, to visit his house and let him cook for us on the Sunday noon before we left Beijing. Yang is a student in Guangzhou who is running experiments for his Ph.D. thesis in a laboratory in Beijing for a year. He is a deep student of history and a careful photographer as well as being a very good cook. We were very interested in visiting him because he lives in a small place in southwestern Beijing, the kind of house Gail and I had not yet been to. You can see the setting in some of the pictures below. It is one long living/sleeping room that open into a covered outdoor passageway across from which is his kitchen. Toilet facilities are outside at the end of the passageway. Parallel to it are the houses of several other families. Many Chinese still live in similar accommodations.
Here we are enjoying lunch. The kitchen is directly behind us.
This is a common area at the end of the passageway. It is heavily used.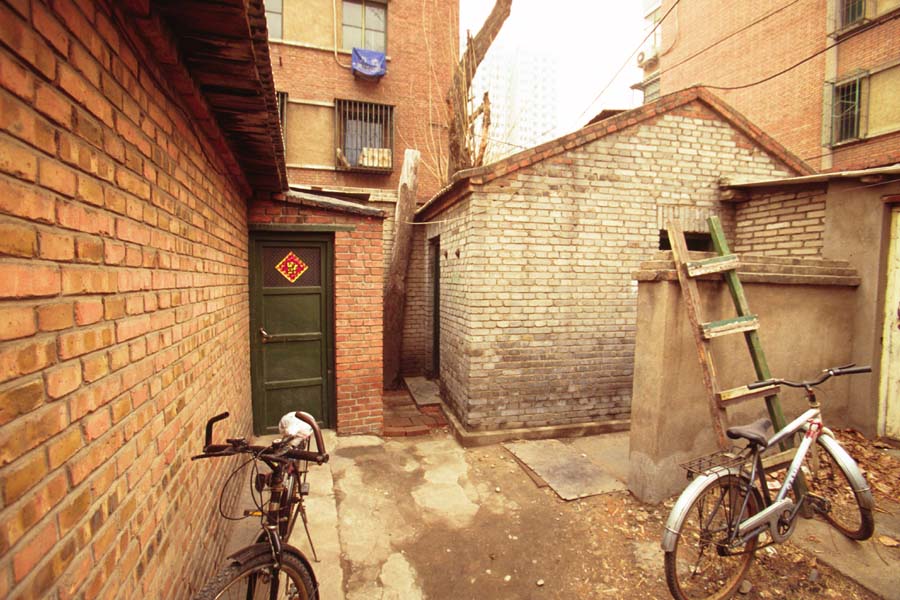 Just to the left are the toilet facilities, through the two doors.
When people see pictures of the wealth that is being concentrated in downtown Beijing, they forget about how people live out of the spotlight and not too far from there.
Here is the little passageway I referred to above. Yang's place is at the far end, near where the passageway opens onto a small alleyway.
We took a little walk over to the next alley. You can see the bikes everywhere. You can also see two men building a cabinet for one of the houses. Neighborhood 2 shows them in more detail.
Ahead to Neighborhood 2
Back to Great Wall 6
Back to Beijing March 2003