Gulangyu 4
The tour of Gulangyu continues...
Me with Jiangjun. She is a very sharp student, and came all the way from the University of Science and Technology in Hefei (a 30-hour train ride) to hear my presentations at the Third Institute of Oceanography. We became good friends, and will surely meet again at her university.
Southern Stele Corridor
"In southern stele corridor there are 14 stone tablets by famous persons through ages in honor of Zheng Chenggong, the author including the Emperor Kiang Xi (1654–1722) of the Qing Dynasty, and several ministers such as Liu Mingchuan (1836–1895), Tang Jingshong (1841–1903), Shen Baozhen (1820–1879), Xia Xianlun (unknown). The Kuomintang Leftist Lin Yazi (1887–1958), the Kuomintang patriotic general Zhang Xueliang (1901–2001), the former vice chairman of the standing committee of National People's Congress Guo Moluo (1892–1978), the former president of the Buddhist Association Zhao Puchu (1907–2000), the former vice-minister of the Ministry of Culture Qi Yanming (1907–1978), famous artist Liu Shouqi (1986–1994), famous biographer Zhu Donglun (1896–1988), famous expert of Book of Changes Huang Shouqi (1912–1990), and the famous educator Liang Piyun (1907– ). Almost all the works are the authentic handwriting of the writers, among which the elegiac couplet written by Emperor Kang Xi for Zheng Chenggong is of most typical representativeness. In 1699, Kang Xi overrode all objections, and issued an imperial decree permitting Zhong Chenggong's grandson Zheng Keshuang to move Zheng Chenggong and Zheng Jing's remains from Taiwan to his hometown Nanan. In addition, he wrote a commendatory elegiac couplet, highly praising Zheng Chenggong's heroic spirit."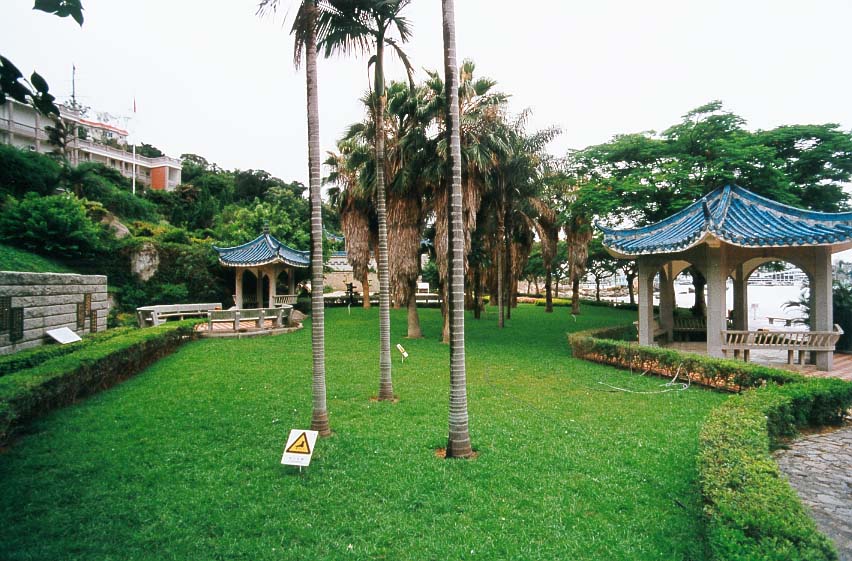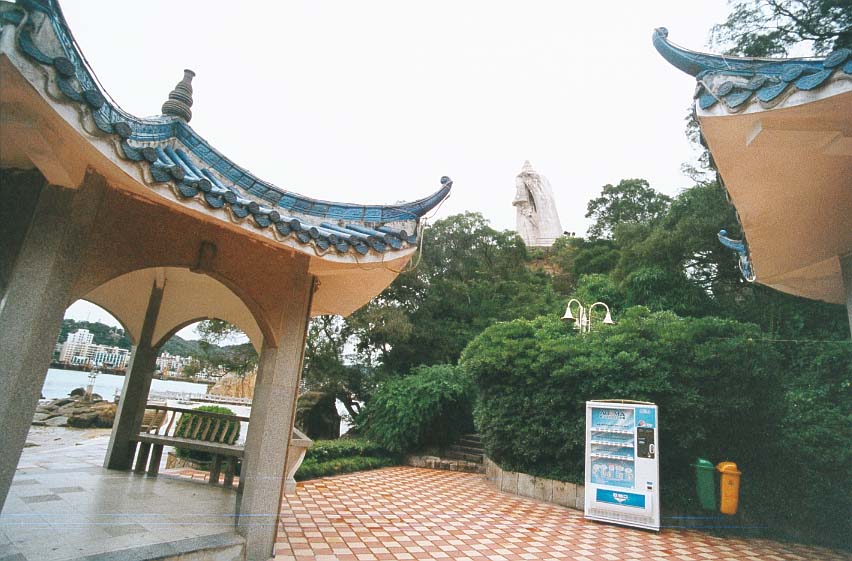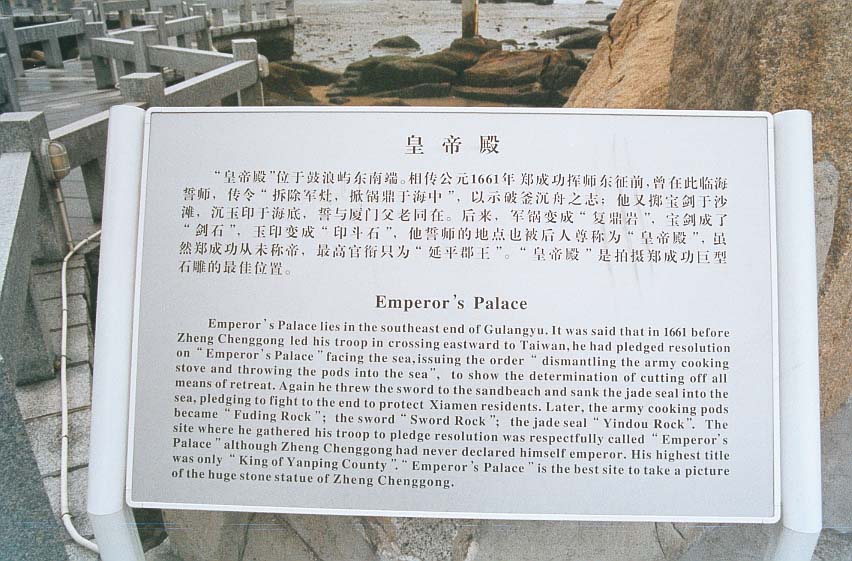 Emperor's Palace
"Emperor's Palace lies in the southeast end of Gulangyu. It was said that in 1661 before Zheng Chenggong led his troop in crossing eastward to Taiwan, he had pledged resolution on "Emperor's Palace" facing the sea, issuing the order "dismantling the army cooking stove and throwing the pods into the sea," to show the determination of cutting off all means of retreat. Again he threw the sword to the sandbeach and sank the jade seal into the sea, pledging to fight to the end to protect Xiamen residents. Later, the army cooking pods became "Fuding Rock"; the sword "Sword Rock"; the jade seal "Yindou Rock." The site where he gathered his troop to pledge resolution was respectfully called "Emperor's Palace" although Zheng Chenggong never declared himself emperor. His highest title was only "King of Yanping County." "Emperor's Palace" is the best site to take a picture of the huge stone statue of Zheng Chenggong."
And here is a photo of Zheng Chenggong taken from "Emperor's Palace."