Rafting 1
No trip to Wuyishan is complete without taking a raft down the river. Nine bends, 9.5 km, and 90 minutes does it. Earlier in the day we had joked that there would be no other rafts on the water that afternoon because China was playing in the World Cup, and we turned out to be nearly right. We were practically alone. Even Director Zhang stayed home. So we didn't have to worry about raft traffic.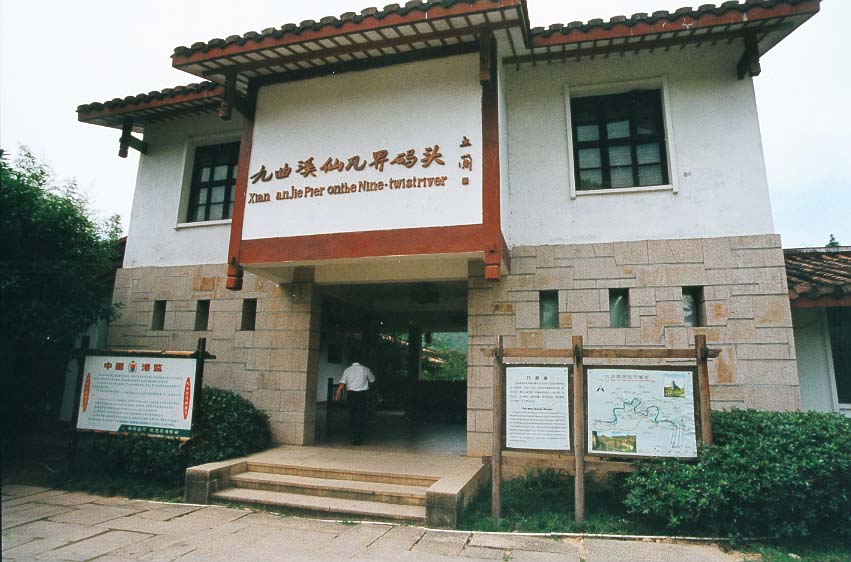 This is the house upstream where it all starts. You pay your money, board a bamboo raft, and off you go. I had been looking forward to the ride with enormous expectation because of all the pictures I had seen in books, videos, and, yes, on the walls of better Chinese restaurants everywhere. I was not disappointed. I was one of the great afternoons of my recent life.
Here is a map of the river and its bends. The rafts of course move downstream, which here goes from left to right. Interestingly, you count the bends backwards, from No. 9 to No. 1. The scientist in me notes that there are actually more than nine bends. In the beginning, at least, only clockwise bends are counted. But these technical arcana should not be allowed to detract from the beauty of the place.
This poster poits out that in addition to the nine bends, the stream contains five ponds, eight rocky shoals, and several peaks alongside.
A typical raft, which is actually two smaller rafts lashed together. Each raft had two license plates, too. Hmmm...I wonder if there was a speed limit, too.
We rode in a four-seater. Larger rafts held six or more people.
Our guide, who told us all sorts of interesting facts and figures along the way. The water was clear enough to allow us to see much of the bottom. If you look carefully to the right of the raft, you can see the rocky bottom.
Liqi, with his digital camera, and Mr. Li with her parasol. We had to wear life-preservers throughout the trip.
The poles had metal-tipped bottoms so that they wouldn't wear out so fast. They were used to propel us in the slow places, guide us, and occasionally to prevent us from crashing into rock along the shoreline.