Up To The Top 1
We arrived on a Wednesday night. The next morning we were met for breakfast at 7 a.m. by Zhang Yaolong so that we could have a full day of climbing and rafting. In the morning we climbed the mountain near the fifth bend in the Nine-Bend River.
This picture shows Zhang, and his associate who served as our guide, just as we arrived on the grounds.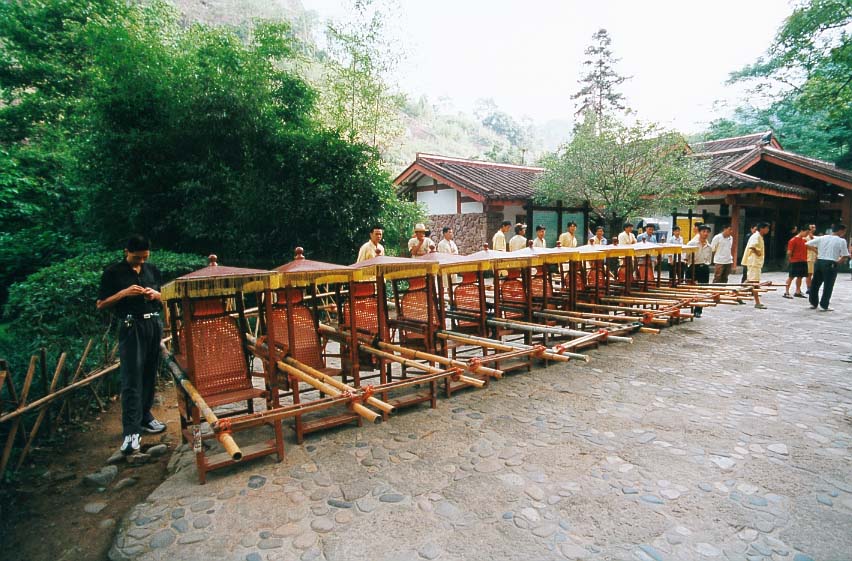 If you're old or rich you can hire one of the chairs and be carried to the top of to wherever else you want to go. Those of us who are neither chose to walk. Actually, it was not a terribly difficult climb, for management has taken care to make the steps safe and secure.
Here are Zhang Yaolong, Li Linmei, and Chen Liqi admiring one of the many peaks just before we began our morning's climb. On the left you can see a tour guide with a yellow flag about to start out with a group of Chinese with yellow hats. I was the only westerner I saw the entire day.
Wuyishan management takes its responsibility to its customers very seriously. These boards list their nine principles of quality (slightly edited by yours truly):
THE POLICY OF QUALITY
Efficient High Quality Innovation
The Fujian Wuyishan Development Tourism Corporation Limited promises:
1. To focus on the customers' satisfaction and always keep the customers' interest in mind while continuing to improve the quality of service.
2. The staff must fulfill their duties and heighten their efficiency according to the routes of 1509001:2000.
3. The corporation will put the management of talents, funds, information and environment into effect to prevent and take precautions against substandard products happening.
4. It must persist in basing on the changing tour market, facing the future, and satisfying the customers' new needs with continuing imprements.
THE TARGETS OF QUALITY
In order to provide the high-quality experience that we desire for tourists in Wuyishan, the management of the corporation sets these targets:
1. The rate of customer satisfaction must equal or exceed 90 percent.
2. The rate of customer complaints must not exceed 0.6 percent.
3. The rate of personal injury from accidents must not exceed 0.1 percent.
4. In order to reduce tailpipe emissions that can damage the environment, we will replace our entire fleet of vehicles within three years with models that emit significantly less pollution.
5. We guarantee clean and tidy tour routes. We also guarantee to clean the garbage bins promptly and remove the garbage from the garbage pool every day.
(Hey, we could use some of these guys and their principles in the United States! Bring them to clean up Enron!)
The main entrance to Wuyi Mountain.
Parts of the walk were very much like a tropical forest.
An early view of the Nine-Bend River.