11 January, White Cloud Mountain—3 At The Top
After Nengren Temple, we climbed to the top. Well, it wasn't exactly the highest place, as you will see below, but it was good enough for us.
The view back to Guangzhou City. Notice the cable cars to the right.
Lots of people and lots of space at the top.
Look over here!
I don't know why, but this picture haunts me. It is of a high school girl who approached us when she heard English being spoken. She was very friendly, and asked me a few questions. At the end, I had to autograph something for her—meeting an American was a big deal.
She was up there with her grandmother. Here they both are.
A little fountain with people enjoying the water.
China is very proud of its space program, and especially of its first manned flight. Here is a New Year's sign that links coming space flights to 2004.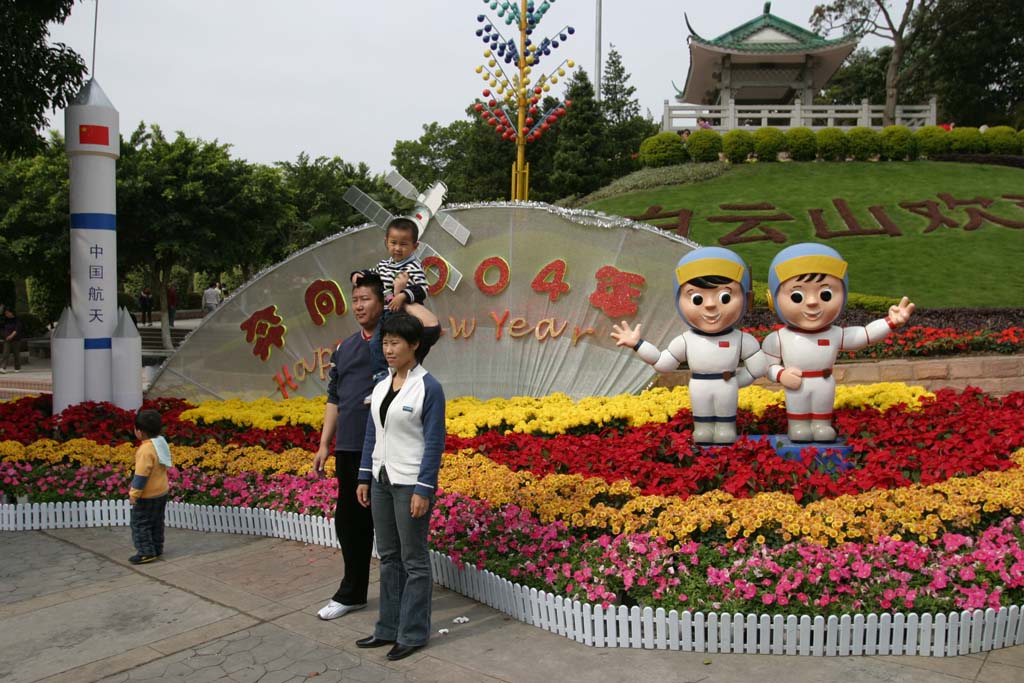 Lots of people wanted to pose in front of this sign. This picture and the next one show some of them.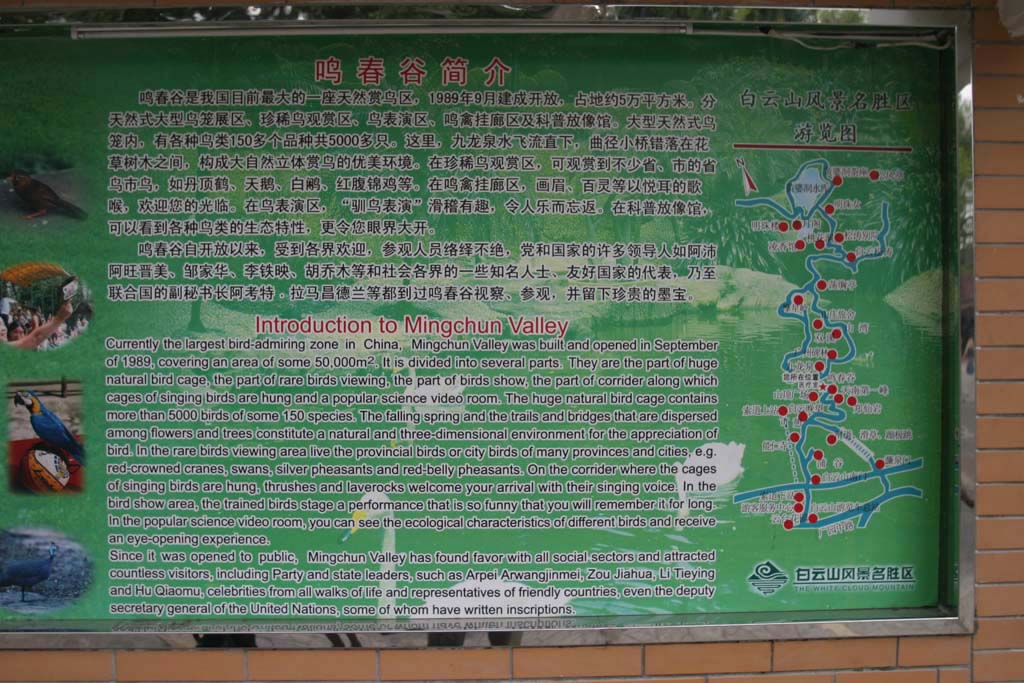 "Currently the largest bird-admiring zone in China, Mingchun Valley was built and opened in September of 1989, covering an area of some 50,000 m2. It is divided into several parts. They are the part of huge natural bird cage, the part of rare birds viewing, the part of birds show, the part of corridor along which cages of singing birds are hung and a popular science video room. the huge natural bird cage contains more than 5000 birds of some 150 species. The falling spring and the trails and bridges that are dispersed among flowers and trees constitute a natural and three-dimensional environment for the appreciation of birds. In the rare birds viewing area live the provincial birds or city birds of many provinces and cities, e.g. red-crowned cranes, swans, silver pheasants and red-belly pheasants. On the corridor where the cages of singing birds are hung, thrushes and laverocks welcome your arrival with their singing voice. In the bird show area, the trained birds stage a performance that is so funny that you will remember it for long. In the popular science video room, you can see the ecological characteristics of different birds and receive an eye-opening experience.
"Since it was opened to public, Mingchun Valley has found favor with all social sectors and attracted countless visitors, including Party and state leaders, such as Arpei Arwangjinmei, Zou Jiahua, Li Tieying and Hu Qiaomu, celebrities from all walks of life and representatives of friendly countries, even the deputy secretary general of the United Nation, some of whom have written inscriptions."
Unfortunately, we didn't have time to go to Mingchun Valley. Next time!