Haug Heaven
While in Iowa City, I was lucky enough to stay at the Golden Haug Bed & Breakfast, which I whimsically call Haug Heaven. It gets its name from its owner and operator, Mrs. Nila Haug. Inside, the motif of decoration is--you guessed it--hogs. This was just fine with me, for hogs were always my favorite of the farm animals as I was growing up and spending summers working with my grandfather on his farm near Niles, Michigan. (No snide remarks, please!) To this day, I retain a special fondness for them (but cannot say whether they reciprocate). I like to think that I was attracted by their unusual intelligence, at least within the farm animals, but the truth is probably quite different.
I told my eastern friends that while in Iowa, I would chow down on corn and pig meat. Alas, I didn't get very much of either. Turns out that the most popular restaurants around Iowa City are pizza parlors!
This is the Golden Haug. I recommend it highly for anyone visiting Iowa City. It is at 517 East Washington Street, just two short blocks from downtown. Nila's telephone number is (319) 338-6452.
Here is the way Haug Heaven looks from the front. I stayed in a suite, or should I say sooeet, on the second floor. There are two other rooms up there, plus something on the ground floor.
This is the living room. Here you can chew the corn with Nila all you wish. You put on the feed bag in the dining room to the left.
The opposite view of the living room.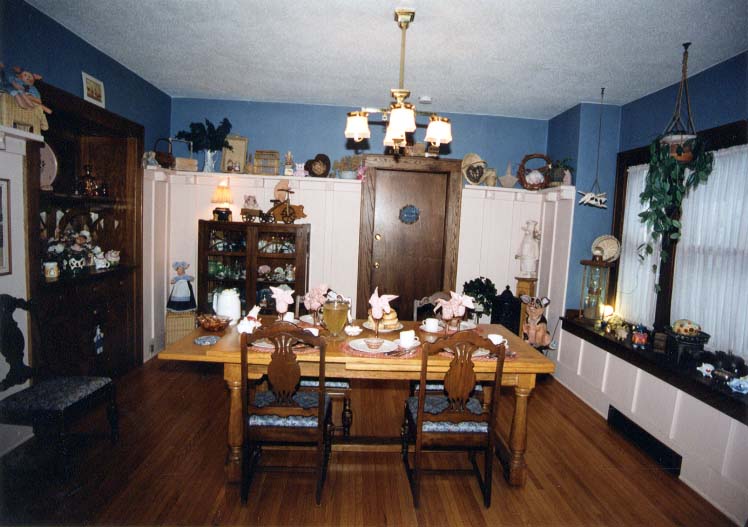 This is the breakfast room ready for breakfast. Nila puts out a good spread, indeed.
My suite was appropriately named "Swine and Roses." This was its living room. Note the hog over the door. You can see part of the bathroom in the background.
This is the bathroom. Note the piglet watching from atop the towels behind the tub.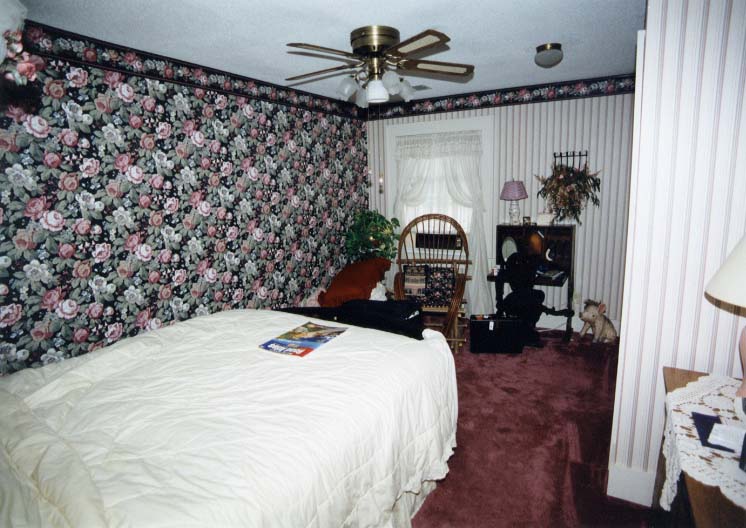 The bedroom. The ceiling fan and the air-conditioning (whose vent can be seen just behind the fan) made easy to sleep in the hottest summer weather. Iowa's hot nights, so good for the corn, didn't bother me. Any disorder shown here is mine; any neatness, theirs. The guard-pig in the right rear helped me sleep without worry.