The Wye thread for Elms
This is the Wye thread for apportioning Elms. It represents our preferred approach, which is using place-signatures first and the minimum number of type-sigutres at the end. The thread is shown in boldface italic in the table below. The figures begin with step 3, after sea and crust have been chosen.
Elms, Maryland, 17 elements
Step 0
Nothing chosen
Step 2
Sea and crust (NACC) chosen, fit 6.57
Step 3
Add Allen, fit 1.87
Add Wye, fit 1.01
Add Sweden, fit 2.11
Step 4
Add Wye, fit 0.60
Add Pr. Geo., fit 0.52
Add Allen, fit 1.16
Step5
Add Pr. George, fit 0.30
Add Allen, fit 0.30
Add Wye, fit 0.57
Step 6
Add Pr. Geo, del. Sweden, fit 0.30
Step 3 adds Wye, the site with the highest F-ratio in steps 0 and 2. It is the first step in the North American place-solution. One high F-ratio for North America remains, for Prince George, Maryland. The fit is already a respectable 1.01.
Step 4 adds Prince George. This improves the fit to a very good 0.52.
Step 5 adds Allen Steam Plant, with the highest of the F-ratios for the type-signatures. The fit now becomes 0.30, and the apportionment process stops. The North American solution for Elms aerosol is then Wye, Prince George, and optionally Allen Steam Coal.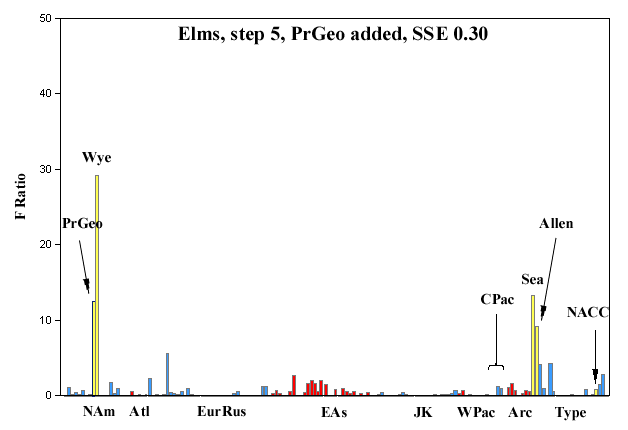 Ahead to Sweden Thread
Back to Allen Thread
Back to Tracer System