Apportionment of Hong Kong, European sources
The European thread for Hong Kong is shown in red italic below. It leads to an unsatisfactory solution.
Hong Kong, 16 elements
Northern sources
Southern sources, place-first
Southern sources, type-first
European sources
Step 0

Nothing chosen

Step 2
Sea and crust (FEC) chosen, fit 4.04
Step 3
Mallipo (May) added, fit 0.74
Guangzhou added, fit 1.10
BGoil added, fit 3.73
KP added, fit 1.69
Step 4
Seoul winter added, fit 0.67
Kenting added, fit 0.59
DCref added, fit 1.99
Cu smelt added, fit 1.13
Step 5
BGoil added, fit 0.45
Guangzhou added, DCref del., fit 0.68
Step 6
Kenting added, fit 0.45
We begin by repeating step 2, with only sea and crust chosen. Note that the European F-ratios are markedly lower than those in southern East Asia and Korea, so we would not consider it a prime source region. That is borne out by the thread.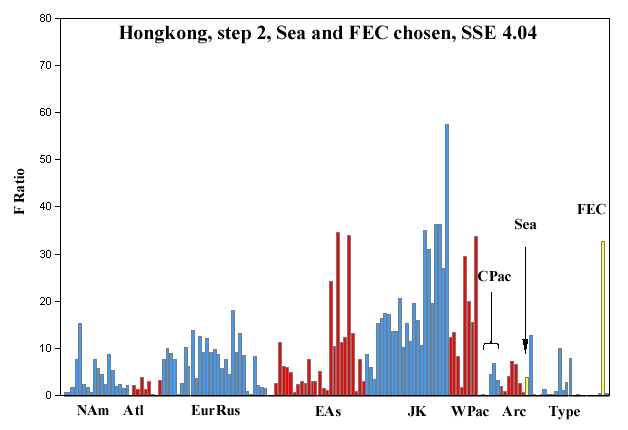 Step 3 add K-Puszta (KP), the European site with the highest F-ratio. It produces an unsatisfactory fit of 1.69 and leaves no other European sources with positive coefficients. This all but spells the end of the European thread.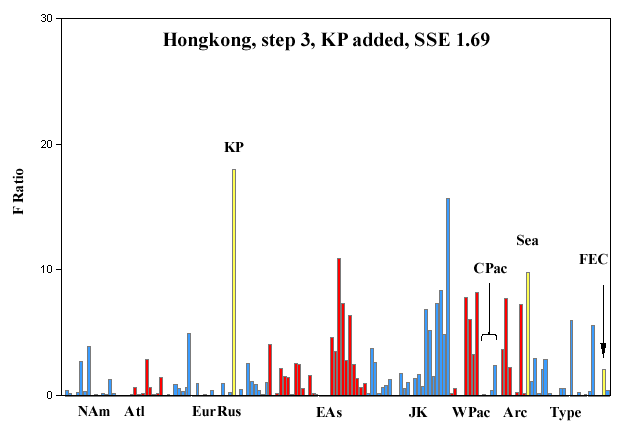 Step 4 tries to continue the European thread by adding Cusmelt (copper smelters). It improves the fit to 1.13, which is still borderline satisfactory, and spells the end of this thread.
The solution of record for Hong Kong thus becomes either southern thread: Guangzhou, Kenting, and oil.