Apportionment of Hong Kong, southern sources place-first
The thread for Hong Kong with southern sources place-first is shown in red italic below. It leads to a very good fit for natural reasons.
Hong Kong, 16 elements
Northern sources
Southern sources, place-first
Southern sources, type-first
European sources
Step 0

Nothing chosen

Step 2
Sea and crust (FEC) chosen, fit 4.04
Step 3
Mallipo (May) added, fit 0.74
Guangzhou added, fit 1.10
BGoil added, fit 3.73
KP added, fit 1.69
Step 4
Seoul winter added, fit 0.67
Kenting added, fit 0.59
DCref added, fit 1.99
Cu smelt added, fit 1.13
Step 5
BGoil added, fit 0.45
Guangzhou added, DCref del., fit 0.68
Step 6
Kenting added, fit 0.45
We begin by repeating step 2, with only sea and crust chosen. Note the preponderance of high F-ratios in southern East Asia as well as in Korea.
Step 3 adds Guangzhou, the place in southern East Asia with the highest F-ratio. It collapses all the other southern signatures except for Kenting, which is added next.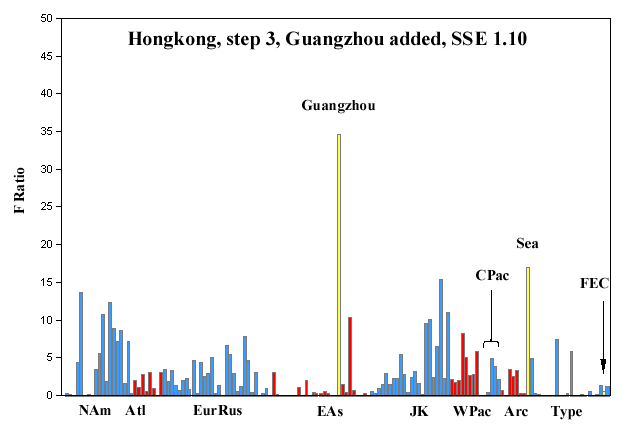 Step 4 adds Kenting (southern Taiwan). This leaves only negative coefficients for the other sites in the South, and so it is the last place to be added. It improves the fit to a good 0.59.
Step 5 adds oil in order to account for the high V around Hong Kong (from oil-fired power plants). This improves the fit to a very good 0.45.
Thus the southern East Asia place-first solution to Hong Kong is Guangzhou, Kenting, and Hong Kong.