Apportionment of Hong Kong, southern sources type-first
The thread for Hong Kong with southern sources place-first is shown in red italic below. It self-corrects to the same fit as the place-first version. This thread takes the unusual step of beginning with type-sources because it seems to be required by the unusual nature of Hong Kong: a strong local component of V from oil-fired power plants (whose signal persists nearly unabated through the summer, when nearly all other elements decrease markedly) and unusually high Sb, which we thought to be from (unknown) local sources. We were relieved, and a bit surprised, when the fit turned out to be the same as the place-first version.
Hong Kong, 16 elements
Northern sources
Southern sources, place-first
Southern sources, type-first
European sources
Step 0

Nothing chosen

Step 2
Sea and crust (FEC) chosen, fit 4.04
Step 3
Mallipo (May) added, fit 0.74
Guangzhou added, fit 1.10
BGoil added, fit 3.73
KP added, fit 1.69
Step 4
Seoul winter added, fit 0.67
Kenting added, fit 0.59
DCref added, fit 1.99
Cu smelt added, fit 1.13
Step 5
BGoil added, fit 0.45
Guangzhou added, DCref del., fit 0.68
Step 6
Kenting added, fit 0.45
We begin by repeating step 2, with only sea and crust chosen. Note the preponderance of high F-ratios in southern East Asia as well as in Korea.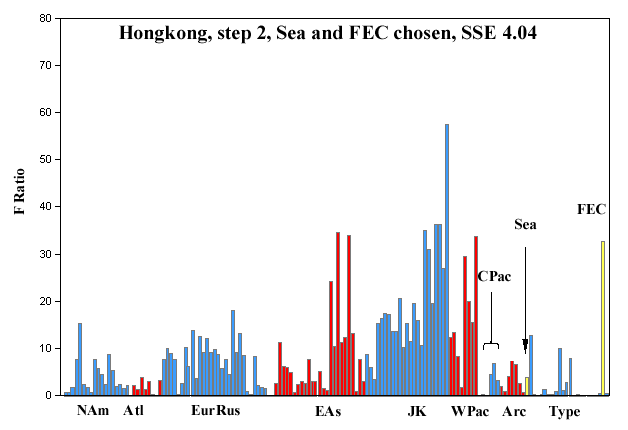 Step 3 begins the southern type-thread by adding oil. the reason, noted above, is the large, persistent component of V in Hong Kong.
Step 4 of the type-thread adds DCref (refuse incineration) to try to deal with the unusually high Sb in Hong Kong. It creates unusually high F-ratios in southern East Asia. The fit is not good (1.99), but it is not supposed to be after only type-sources.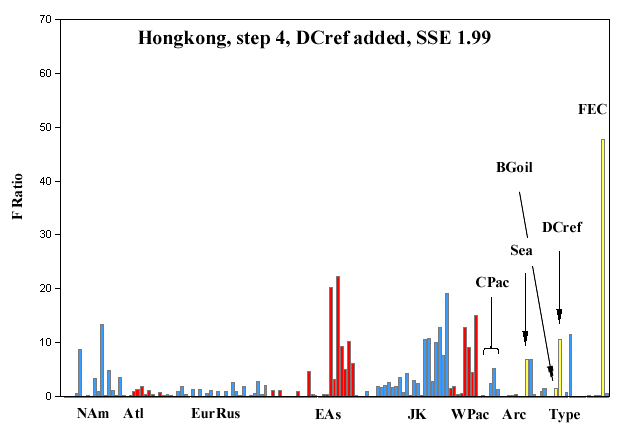 Step 5 adds Guangzhou, the site with the highest F-ratio in southern East Asia. That deletes DCref and improves the fit to a good 0.68.
Step 6 adds Kenting (southern Taiwan) and improves the fit to a very good 0.45.
Thus the southern type-first fit brings the solution back to the one from the place-first thread: Guangzhou, Kenting, and oil. Given the geography and meteorology of this region, the fit is eminently reasonable. The oil is local Hong Kong. Kenting is regional aerosol, probably mostly with summer winds from the S and SE. Guangzhou is nearby PRC, brought to Hong Kong mostly during the winter.