The European Solution for Narragansett
The European thread for Narragansett is shown in red italic in the table below. It is quite long, in a vain attempt to make it work.
Narragansett, Rhode Island, 22 elements
Step 0

Nothing chosen

Step 2
Sea and crust (NACC) chosen, fit 5.65
Step 3
West Point (NY) added, fit 0.88
Sweden added, fit 1.98
Cheju added, fit 2.21
Step 4
Prince George (MD) added, fit 0.32
Ghent (Belg.) added, fit 1.79
Amagasaki added, fit 1.54
Step 5
Sudbury (Ont.) added, fit 0.26
Lerwick (UK) added, fit 1.62
Chikugo-Ogori added, fit 1.45
Step 6
Elms (MD) added, fit 0.23
Trebanos (UK) added, fit 1.51
BGoil added, fit 0.81
Step 7
BGoil added, fit 0.77
Allen Steam Coal added, fit 0.44
Step 8
Allen Steam Coal added, fit 0.53
We begin by repeating the figure for step 2, so as to show the justification for pursuing a European solution. Note the considerable number of European sites with F-ratios approaching those of eastern North America.
Step 3 adds Sweden, the European site with the highest F-ratio. That collapses the other European sites (represents them well) but leaves the North American values high. The fit is an unsatisfactory 1.98, however, and so additional European sources much be sought.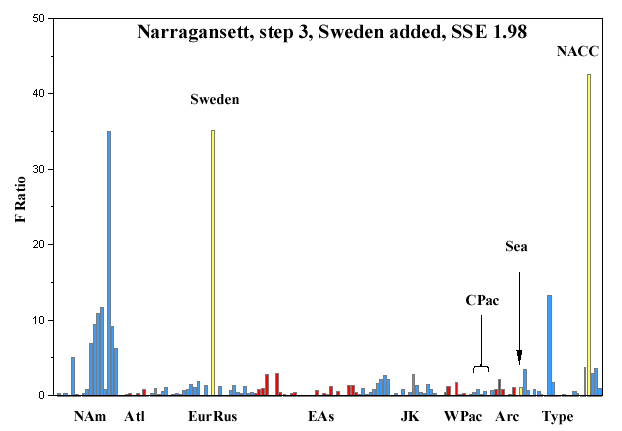 Step 4 adds Ghent, Belgium, with the highest remaining European F-ratio. It improves the fit modestly (to 1.79), but leaves it still unsatisfactory. The high F-ratios in North America remain.
Step 5 adds Lerwick (Shetland Islands), the highest of the remaining European sites. Again the fit improves modestly (to 1.62), but remains poor.
Step 6 tries another UK source, Trebanos, but in improves the fit by only half as much as Lerwick did. It remains poor.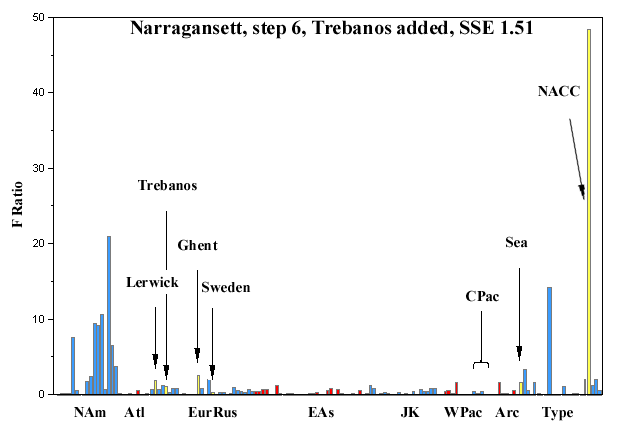 By this point, it is obvious that the European place-fit is not working well. As step 7, we added BGoil, which had the highest F-ratio of the type-sources. It improved the fit significantly, to 0.77.
We then supplemented the oil with Allen Steam Coal, the highest of the remaining type-signatures, and further improved the fit, to 0.53.
The final European fit thus consisted of Ghent, Lerwick, Trebanos, and Sweden (the last two with very small F-ratios), supplemented by oil and coal. Several high F-ratios remained for North American sources. The final fit was 0.53.
The attempted European fit raises the important procedural question of how much we should accept a solution when multiple type-sources are necessary in order to get a decent fit. In this case, the best fit without the type-sources was 1.51, as opposed to the 0.23 for the North American solution with no type-sources. It seems clear that this attempted European fit should be rejected because its place-sources couldn't do that job. To rescue a place-fit with two such basic type-sources as coal and oil seems unwarranted, and so we reject the European solution for Narragansett.
Ahead to the Japan/Korea Solution
Back to Narragansett
Back to Tracer System