Japan/Korea Solution for Wye
The Japan/Korea solution to the Wye aerosol is shown below in red italic. It is similar to the European solution—three place-signatures and an unacceptable result.
Apportionment of Wye, 17 elements
Step 0
Nothing chosen
Step 2
Sea and crust (NAIC) chosen, fit 6.33
Step 3
Elms added, fit 0.99
Finland added, fit 1.77
Ube added, fit 2.41
Step 4
NYC added, fit 0.61
Trebanos added, fit 1.34
Nopporo added, fit 2.24
Step 5
Allegheny added, fit 0.38
Ghent added, fit 1.11
Cheju added, fit 1.79
Step 6
Sudbury (Ont.) added, fit 0.26
Allen added, fit 0.68
Allen added, fit 1.05
Step 7
Shenandoah added, fit 0.23
We begin by reminding the reader of where the Wye apportionment stood at the end of step 2: a suite of signatures from Japan and Korea that were as high as many in Europe but not as high as the highest there. Europe had that same relation to signatures in Eastern North America. The results, summarized in the table above, ranked in that order: Eastern NA > Europe > Japan/Korea. Maybe the plots for step 2 can be used in that simple a manner—baseline F-ratios provide the general rankings, and multiple high values carry the day (get the apportionments into a particular region and start its thread off with a good fit). Thus it may come as no surprise that JK comes in last among these three regions: same baseline but lacking the multiple high fits.
Step 3 adds Ube, the best of the Japan/Korea F-ratios. The fit is an unimpressive 2.41, and the other JK sites collapse to virtually zero.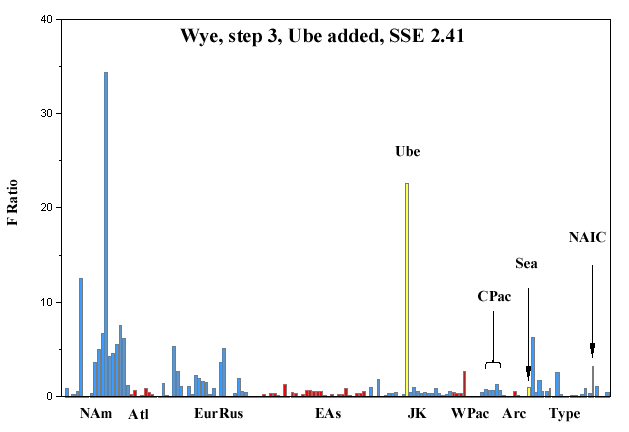 Step 4 chooses Noppora, the JK site with the highest of the low F-ratios. The fit improves modestly, to 2.24. Note all the higher values of North America waiting in the wings.
Step 5 tries Cheju, the highest of the West Pacific coastal islands. Although Cheju is not strictly a JK source, it belongs to South Korea and is in the general region. It improves the fit to 1.79, which is still unacceptable.
Step 6 adds Allen Steam Coal, the high type-source right next to the sea on these plots. It improves the fit to 1.05, of borderline worth. Note the high F-ratios in North America and Europe left unaccounted for by the JK thread. The poor fit, the appeal to a type-source, and the unsettled nature of the final plot jointly make this solution unacceptable.
This the final solution for Wye is the North American thread. The European and JK regions did not seriously compete with it.