The 1999 Providence Conference on
The JFK Assassination
11 April 1999
(Click here for Epilogue)

Charles Drago and I are presently planning a three-day conference on the JFK assassination that is to be held in Providence 16-18 April 1999. In several important ways, this meeting will be distinctively different from any previous JFK conference. We are aiming for a small, informal gathering of people of all persuasions who will share information in a respectful, open manner. Talks will be relatively long and will be followed by ample time for questions and answers. The audience will truly engage with the speakers, not just listen. All ideas are welcome, provided only that they are supported by solid evidence.
The meeting will be held at the Providence campus of the University of Rhode Island, known as the Feinstein College of Continuing Education, which occupies the Shepard Building at 80 Washington Street, Providence RI 02903. We will have three rooms on the second floor, 228 and 233 for the whole time and 242 for Friday evening. We will meet in 233, which holds about 65 people. Next door, 228 will be used for vendors and informal discussions among small groups. There is ample parking in the vicinity and a variety of restaurants within walking distance. For an MS Expedia map of downtown Providence and the location of the conference, see below.
Friday evening we will have a social hour for attendees to make new friends and catch up with old friends. With a little luck, Charlie will bring his DVD version of the Zapruder video for us to view and comment on. Saturday morning and afternoon will be devoted to the traditional presentations from researchers, loosely organized around a few main themes. Saturday evening will be devoted to a round-table discussion of issues in teaching courses on the JFK assassination, and will draw on the experiences of at least four teacher-researchers from the area. Sunday morning will have two events: presentations from my class on the assassination that is being given this semester in URI's Political Science Department, on the Kingston Campus, and a wrap-up session that will attempt to bring into perspective the challenging thoughts raised during Saturday's sessions.
We are trying to keep costs low so as to allow as many people as possible to attend. With luck, we will be able to hold the registration fee to about $25, possibly including abstracts and proceedings.
To read the first announcement, click here.
To read the second announcement, click here.
To read the third announcement, click here.
To see the list of confirmed speakers and read their abstracts, click here.
To see the developing list of additional short presentations (as described in the Third Announcement), click here.
To see the nearly final schedule (as of 11 April 1999), click here.
To download the registration form in MS Word, click here. You may then register by returning the completed form as a formatted attachment to an E-mail message.
To keep the accounting simple, please send checks to Kenneth A. Rahn. Use the address given in any of the announcements.
Last-minute information on hotels: Providence is filling up fast for "our" weekend. As of today, Wednesday 31 March, the only downtown hotels with rooms available are (1) The Marriott, tel. (401) 272-2400, which has five rooms for Friday the 16th and considerably more for Saturday. Price is $139 S/D. (2) The Days Hotel, at 200 India Street, which has <15 rooms remaining, at $109-149, not including a 10% discount for AAA or AARP. Tel: (800) 528-9931. These rooms should be gone by early next week. This hotel is a five-minute ride from downtown and is at the head of Narragansett Bay, in or near a little park. I have not been in it myself, but it sounds good by phone. They operate a complimentary shuttle to the Amtrak Station downtown, which is just a short walk from the conference site. I suggest that nearby folks drive if they can. If you need other suggestions for where to stay in East Providence or Cranston, I can offer a few. Should worst come to worst, I (Ken Rahn) am prepared to take a room just outside of Providence and shuttle a few folks to and from (early and late). But if you get your rooms now, that should not be necessary.
More details will appear here as they become available. For questions and the latest information, E-mail K.A. Rahn at krahn@uri.edu.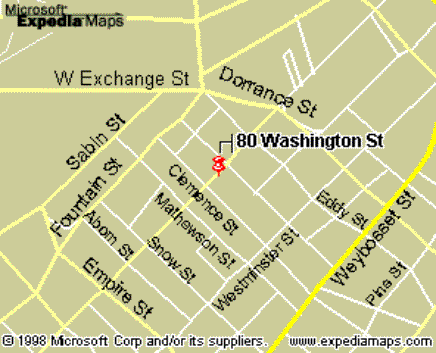 Map by www.expediamaps.com