The Japan/Korea Solution for Northern Norway
The Japan/Korea solution for northern Norway is shown in red italic in the table below. Although it looked promising at for step 2 (below), it provided a poor fit and soon proved unsuitable.
Northern Norway, 22 elements

Step 0

Nothing chosen

Step 2

Sea and best crust (FEC) chosen, fit 7.24

Step 3
Add Sweden, fit 1.52
Add Norilsk, fit 1.59
Add Matsue (JP), fit 2.33
Step 4
Add Trebanos, for 1.36
Add Ny-Ålesund, fit 1.46
Add Seoul winter, fit 2.08
Step 5
Add Jungfraujoch, fit 1.28
Add Petten, fit 0.89
Step 6
Add Norilsk, fit 0.99
Add Allen, del. Ny-Ål, fit 0.72
Step 7
Add Petten (NL), del. Jung., fit 0.86
Step 8
Add Allen, fit 0.70
We begin by repeating the figure for step 2, with sea and crust (FEC) chosen.
Step 3 of this thread chooses the highest of the Japan/Korea sources, Matsue. This produces a poor fit (2.33) and leaves quite a few high F-ratios, mostly for Europe and the Arctic (the real sources of northern Norway aerosol).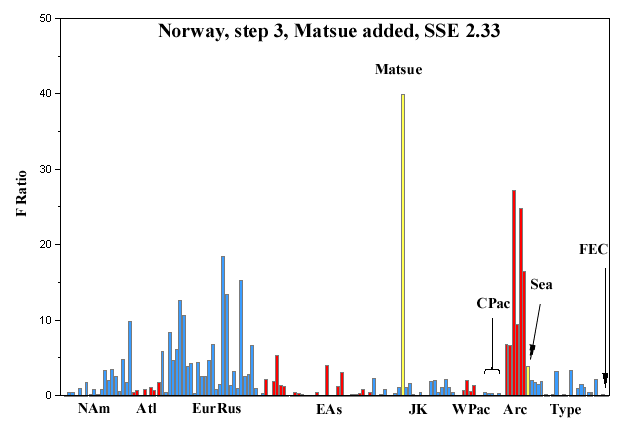 Step 4 takes the next-highest JK source, Seoul winter. It improves the fit only marginally (to 2.08) and leaves high F-ratios for Europe and the Arctic. Since choosing these sources would return the fit to the European solution, as happened with the Arctic thread, we abandoned the Japan/Korea thread.
The final solution for the aerosol of Northern Norway is then the European solution of Petten, Trebanos, Sweden, Norilsk, and Allen Steam Coal. that amounts to a broad mix of European sources with a touch of Arctic.
Back to Arctic Solution
Back to European Solution
Back to Tracer System